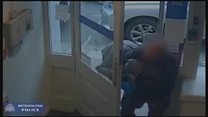 Video
CCTV shows member of public tackle armed bank robber
CCTV footage of a member of the public wrestling with an armed bank robber has been released by police.
The passer-by attempted to apprehend the thief seconds after he pulled a weapon on "terrified" staff at a bank in Teddington, south-west London, on the afternoon of 10 March.
After demanding money, he was confronted by the man who attempted to restrain him, but after a brief fight the robber escaped.
The offender, who is thought to have travelled to the bank on an adult mountain bike and live in the local area, fled with more than £150.
The Met is appealing for anyone with information to contact the force on 101.