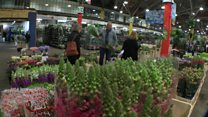 Video
New Covent Garden Market moves for redevelopment
The UK's largest specialist flower market is moving for the third time in its 347-year history.
The market, based in Nine Elms, Battersea, south-west London, is moving to a temporary home for five years from Monday to make way for redevelopment.
In 2011, the government secured agreement for a £10bn release of public sector land to build 100,000 homes as part of a 561-acre (227 hectares) regeneration of the area.
Wholesalers, whose customers include The Dorchester and The Savoy hotels, had their last trading day on Friday ahead of the move.
Some have questioned whether the market should be moved out of inner London to secure its future.