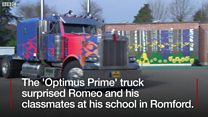 Video
World Book Day 'Transformers boy' gets special visit
A four-year-old boy from Romford who went viral on social media on World Book Day after he wore a costume based on the popular 'Transformers' series got the surprise of his life on Monday when the 'Optimus Prime' truck turned up at his school.
Romeo and his classmates had their photos taken and were given special badges.
Romeo got to sit in the cab of the truck and pull the horn. He even went for a ride.
"I just thought it would be normal to put a normal Romeo picture on Facebook," Romeo's dad Charlie Makaveli said.
"I didn't think it would go quite as far. I don't think he quite understands how big it's become. He just brushes it aside and just gets on with his day."