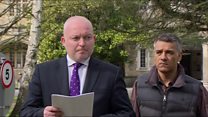 Video
Tennis dad John De'Viana 'will always love his daughters'
A tennis coach who was accused of abusing his daughters in a bid to make them Wimbledon champions has been cleared of mistreating them.
John De'Viana, 54, from Ilford, east London, was accused of having beaten and verbally abused his two daughters Monaei and Nephe after they failed to meet his expectations.
Speaking after the trial, via his solicitor Daniel Salter, Mr De'Viana said he hoped other parents and coaches would not be put off training with children because of his experience.
He said it was "difficult" to see his daughters give evidence against him, but "as a father" he loved them and always would.