Media player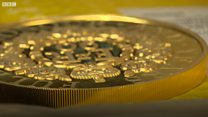 Media playback is unsupported on your device
Video
Have you ever seen a £1,000 coin?
A tradition dating back to the 12th Century has been carried out once more.
The annual Trial of the Pyx sees a jury examine the quality of the coins we spend in the UK.
Samples of all the money made at the Royal Mint in London are sent for examination.
One of the coins checked was the new £1 coin, which will be released in March and has been designed with additional security features - making it one of the hardest to fake.
Another coin examined was the £1,000 commemorative coin made for the Queen's 90th birthday.