Media player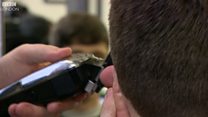 Media playback is unsupported on your device
Video
Health and safety concerns over untrained barbers
There are fears that the rapidly growing number of barber shops in London could be compromising the health and safety of customers.
It is because anyone here can have a shop and start cutting hair and giving shaves to customers, unlike America, Australia and several European countries which require barbers to be trained and have a licence.
There are concerns that a lack of regulations is resulting in the spread of infections of the scalp and face like herpes and folliculitis.