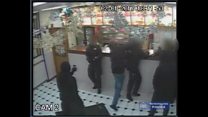 Video
Masked attackers filmed Brixton takeaway stabbing
A teenager required surgery after being repeatedly stabbed in a takeaway by masked men who appeared to record the attack on a mobile phone.
The footage of the stabbing in Brixton, south London, has been released by detectives in a bid to find the 18-year-old's attackers.
The men - armed with knives and belts - whipped, punched and kicked several people at the Dallas Chicken takeaway on Brixton Road on 2 January.
The teenager was hit in the face with a belt then stabbed several times by one of the suspects, police said.
He suffered four stab wounds to his leg, one to the abdomen and one to the arm.
The victim underwent surgery on his abdomen. He has since been discharged, but requires further surgery to the wound on his arm.