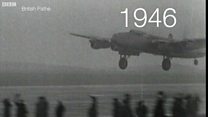 Video
The history of London's Heathrow airport
London Airport, as Heathrow was originally known, opened in 1946, at a cost of £20m.
The first aircraft to take off was a converted Lancaster bomber.
Within a decade capacity at the airport was already two million passengers a year.
In 1966 the airport was renamed Heathrow and 20 years later Terminal Four opened.
Terminal Five opened in 2008, by which time the airport was being used by about 75 million passengers annually.
The following year the Labour government backed a third runway but the Conservatives promised to oppose the plan.
In 2015, the Airports Commission recommended a third runway be built at Heathrow airport.