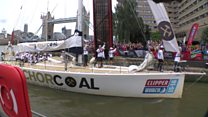 Video
Clipper Round the World yacht crews welcomed in London
Crews taking part in the biennial Clipper Round the World yacht race have returned to London from where the 11-month circumnavigation of the planet began.
The gates of Tower Bridge were opened, to welcome the 12-strong fleet after they crossed the finish line at Southend on Friday night.
LMAX Exchange was the overall race winner.
But it was a sad time for the IchorCoal's crew, two of whose members died during the voyage.
Tributes were paid to Andrew Ashman, who was fatally injured by the yacht's boom, and Sarah Young, who was swept overboard in the Pacific Ocean.
Clipper Round the World race founder and chairman Sir Robin Knox-Johnston, 77, said the race was "extremely tough".