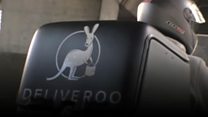 Video
Deliveroo drivers 'worried about new contracts'
Some drivers working with the takeaway service Deliveroo, which delivers restaurant food ordered online, say they are worried about new contracts.
Drivers say the new contract might mean they will be paid less than £7.20 per hour, lower than the minimum wage for people over the age of 25.
The pay used to be £7 per hour with £1 commission per delivery, but under new contract the drivers would be paid £4.25 per delivery but no hourly payment.
Deliveroo says the new rates are a trial and on average drivers there do two drops, earning £8.50 per hour, with efficient drivers can earn more than £12 an hour.
But drivers say they are struggling.