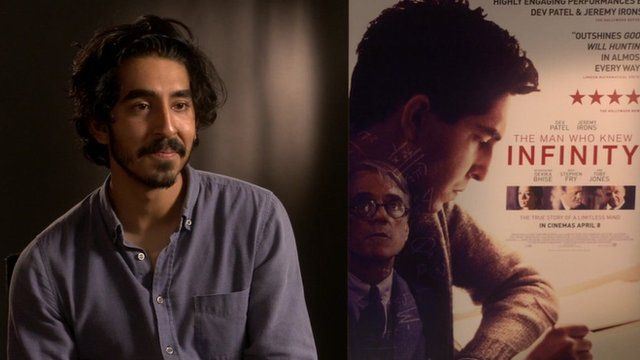 Video
Dev Patel takes on mathematician role
London-born actor Dev Patel plays mathematician Srinivasa Ramanujan in his latest film, The Man Who Knew Infinity.
In 1913, Ramanujan is a 25-year-old shipping clerk with an obsessive aptitude for mathematics.
Living in India and determined to pursue his passion, he writes a letter to G. H. Hardy (Jeremy Irons), an eminent mathematics professor at Trinity College, Cambridge.
Ramanujan is brought to England so his theories can be explored.
Patel said: "These films are hard to get made. You're talking about a film that's no big action set pieces and it's not a real comedy. It's an intelligent film."
Patel, who currently lives in Los Angeles, added: "It's always awesome coming back to London. I'm back at the house where I grew up with my family. My mum is a force of nature. There is never a dull moment in my house."
Go to next video: Slumdog star's Hollywood return