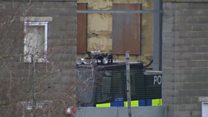 Video
Met Police water cannon found at Gravesend training site
Two water cannon bought by the Met Police have been discovered at a training site in Gravesend.
The force purchased three second-hand machines in 2014 to be used in the event of a large-scale public disorder, but the home secretary said there was a risk of causing injury and banned their use in July. The cannon have not been seen publicly since.
But drone footage shot by the BBC shows two of the cannon being stored at the training site.
The London mayor's office - which previously refused to disclose details of the machines' whereabouts - maintained its silence and declined to comment on the location of the third cannon when contacted.