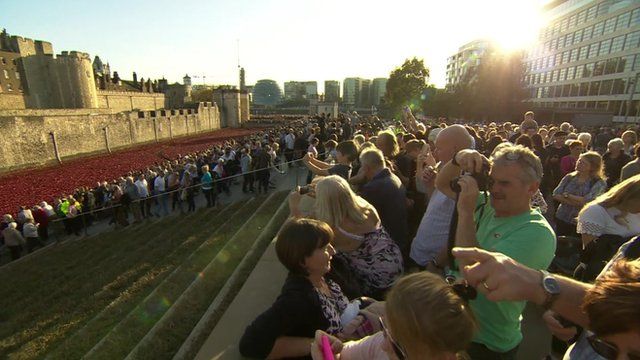 Video
Tower of London poppies attract crowds
Thousands of people have visited an art installation at the Tower of London featuring thousands of ceramic poppies.
Each poppy in The Blood Swept Lands And Seas Of Red exhibition commemorates a fallen WW1 serviceman, but the event has led to long queues to travel disruption.
Phil Hufton, London Underground's chief operating officer, said: "Currently the crowds attending the remembrance events at the Tower of London mean that the station is extremely busy and occasionally, on police advice, we are having to close it."
Transport for London said there would also be no access to Tube services to or from Tower Hill station on 1 and 2 November due to planned engineering works.
Mr Hufton added: "Even if we were able to open the station this weekend, which we can't, the likelihood is that it would have to be closed for long periods."
BBC London's Victoria Hollins spoke to Ryan Van Graan and John Brown, the head of operations at the Tower of London.
Go to next video: A sea of red poppies from the air