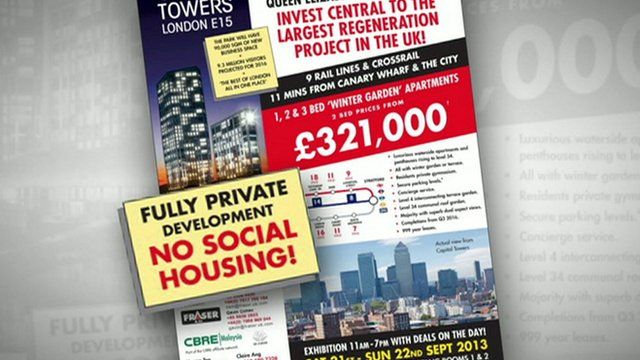 Video
Outrage over Capital Towers 'no social housing' advert
Residents of an estate in Stratford have said they are outraged that a residential development is being marketed overseas as having "no social housing".
Capital Towers will be built near the Olympic Park and will have luxury flats, which start at about £300,000.
BBC London has learnt the developer agreed a deal with Newham Council to give the authority money to build affordable homes elsewhere in the borough as they said this site was not suitable for social housing.
The council did not provide a comment, however they did not deny the claim.
Darren Johnson, the Green member on the London Assembly, said two-thirds of new developments were being bought by foreign investors, while Mary and Brian Finch, who could see their homes on the Carpenters Estate demolished, said the advert was "awful".
Go to next video: Supermarkets build homes above stores