Media player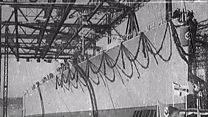 Media playback is unsupported on your device
Video
Pilot's pictures 'sank Bismarck'
A pilot who took what Winston Churchill called "the pictures that sank the Bismarck" has been commemorated.
Michael Suckling located the battleship, which was the pride of Nazi Germany's navy and a threat to allied shipping during World War Two.
His images, taken from a long-range Spitfire and returned to commanders in a daredevil night-time dash, led to a major propaganda coup for Britain.
A Bramley apple tree has been planted at the National Memorial Arboretum.
The pilot's great-grandfather, Henry Merryweather, from Southwell in Nottinghamshire, was credited with marketing the first Bramley apple.