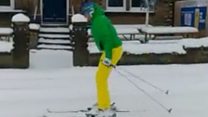 Video
Skiing in the streets of West Yorkshire
Snow has caused disruption across West Yorkshire, but it's also led to people enjoying novel ways of getting around.
Skiers have been spotted in Steeton - as well as in Harrogate in North Yorkshire - making their way along streets normally reserved for feet or wheels.
Across West Yorkshire, it's been a day of travel troubles, with Leeds Bradford Airport at one point being closed to flights landing and taking off.
The heavy snow showers and icy conditions had an effect on the county's schools, with more than 200 closed.
The University of Bradford also shut its doors.
The weather also affected bus routes with many services sticking to the major routes.
Leeds City Council said it had spread over 1,000 tonnes of salt to keep traffic moving.