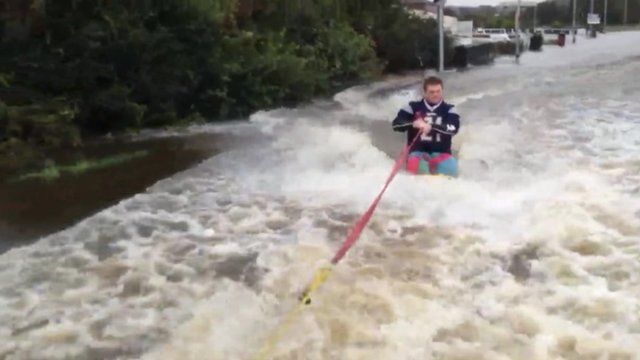 Video
Surfer towed along flooded Castleford road
An indoor surfing instructor has been filmed bodyboarding along a flooded road in West Yorkshire following two days of heavy rain.
Oli Barrett was filmed being towed on the board along the A656 in Castleford on Tuesday.
Mr Barrett, who works at Flow House Xscape in Castleford, described the experience as a "bit surreal".
He said: "There were four of us... doing indoor surfing and we thought we'd have a change and do some outdoor surfing.
"Me and a friend put a rope on the car and went for it. We didn't think it would work but it worked like a dream.
"The feeling was very strange, a bit surreal. You don't normally find yourself surfing along a road. A few drivers passed us smiling and giving us the thumbs up."
A West Yorkshire Fire and Rescue spokesman said he understood the road had been closed because of the flooding.
He said: "These pictures are a warning that people should observe safety advice at times of flooding".