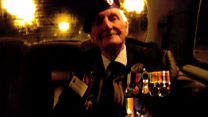 Video
Singing D-Day veteran stars in multi-media art show
A film of a singing D-Day Veteran is going to be displayed at an art exhibition in a London car park.
The clip of former Royal Marine Sergeant Jim Baker,who died earlier this year aged 93, is being played out in Drive Thru - a multi-media exhibition for people visiting the indoor car park in Cavendish Square.
Mr Baker, from Blackpool, was was filmed in the back of a black cab singing the old World War One song "Hanging on the old barbed wire" on his way to see a gig by comedian Al Murray
Janet Hodgson, who made the film and accompanied him on two trips abroad, said: "He was tremendous company... I remember trying to find him in Euston Station one time - I was searching frantically when I saw this group of Virgin Train employees roaring with laughter as they gathered round a man in a wheelchair."