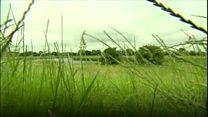 Video
Humber estuary sounds recorded for Hull University's City of Culture project
Diverse sounds heard across the Humber estuary including locations such as a chemical works, nature reserves and docks have been recorded for a new aural exhibition at the University of Hull.
Audio recordist and former musician Chris Watson has spent 18 months travelling the length of the Humber estuary recording 60 hours of noise. He has produced a 20-minute composition with 20 speakers creating a sphere of sound, which he hopes will transport the audience back to the Humber.
Watson went from influential 1970s experimental band Cabaret Voltaire to recording sound for David Attenborough's wildlife documentaries including Life of Birds and Frozen Planet.
His Trent Falls to Spurn Point project is part of Hull's City of Culture celebrations and runs until 15 July at the University of Hull.