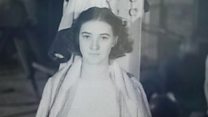 Video
Barbara Buttrick: The female boxer who led the way
She may not be a household name, but Barbara Buttrick paved the way for female boxers everywhere.
The 87-year-old from Hull went from being a shorthand typist to clinching the first world title in women's boxing in 1957.
At just 4ft 11in (1.5m) she became known as The Mighty Atom and went on to fight more than 1,000 exhibition matches after winning 30 professional fights, drawing one and losing just one before retiring in 1960.
She is speaking at Hull City Hall as part of the UK City of Culture celebrations on 11 March.
Find out more about her story on Inside Out Yorkshire and Lincolnshire at 19:30 GMT on BBC One.