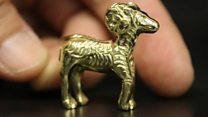 Video
Scunthorpe gold artwork code 'hard to crack'
Five gold artworks are being hidden around Scunthorpe, but finding them involves cracking codes which could take weeks to solve.
Bristol artist Luke Jerram is behind the project called Treasure City in which treasures worth at least £1,000 each are hidden to be found and kept.
To find the pieces you will need to visit the 20-21 Arts Centre and study five paintings featuring codes, some of which are "extremely hard" to crack.
Mathematician and secret code-setter Dan Fretwell was called in to set the ciphers to encrypt messages telling people where to find the trinkets.
You can watch more on BBC Inside Out Yorkshire and Lincolnshire on Monday 13 February at 19:30 GMT.