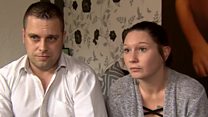 Video
Callum Cartlidge's mum will 'never forgive' hospital
The mother of a boy who died after he was discharged from hospital says she cannot forgive the errors in his care.
A coroner said not giving a blood test to eight-year-old Callum Cartlidge, who had an undiagnosed rare illness, was "a failure to provide basic medical care".
Callum had been suffering an Addisonian crisis, linked to Addison's Disease.
Mum Stacey Cartlidge said she was not listened to when she asked for a blood test - a test, an inquest heard, that would have identified his disease and prevented his death.
He had been discharged from Worcestershire Royal Hospital with a diagnosis of gastroenteritis.