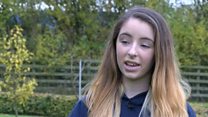 Video
Family may now fund daughter's life-changing surgery
The family of a teenager, whose life-changing spinal operation has been cancelled because of an NHS mix up, say they may fund the operation themselves.
Ella Tomlinson, who's 14 and plays hockey and netball for Herefordshire, has scoliosis which means her spine has curved into an S shape.
Ella, from Leominster, was promised a new type of surgery before Christmas but her family was told the NHS funding had been cancelled after a mix-up over the costs being approved.
St George's Hospital in Tooting, where the operation was supposed to take place, said in a statement: "We want to provide the best possible care to patients like Ella, and are in discussions with NHS England about the best way forward."