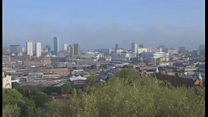 Video
Birmingham business leader calls for limit on zero-hour contracts
One of the West Midland's major business figures has called for a limit on how long firms can keep staff on zero-hour contracts.
The region has one of the highest number of workers on zero-hours contracts in the UK - 79,000 people were listed between April and June 2015, according to a report from the Office for National Statistics.
The contracts do not guarantee a minimum number of hours of employment and many argue they offer greater flexibility in working patterns, including the Institute of Directors (IoD).
However, Jason Wouhra, the chairman of the West Midlands branch of the IoD has called for workers to be awarded full-time jobs after a certain amount of time.
More on this on Inside Out in the West Midlands on BBC 1 at 19:30 GMT or iplayer.