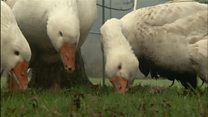 Video
The Archers plot fattens Christmas goose as sales rise
Goose sales are up this Christmas with credit going to a storyline on the BBC Radio 4 drama, The Archers.
A flock of geese from the Goodman family farm in Great Witley in Worcestershire provided the sound effects for the plot about two brothers who decide to go into goose farming.
Andrew Goodman who farms geese as well as turkeys, told BBC Midlands Today reporter Bob Hockenhull, that goose was seeing a resurgence.
The British Goose Producers have reported that sales of goose are up by 3% on last Christmas.
John Franklin, the chairman, said, "I definitely think the Archers has affected demand. It is a very popular show which reaches a lot of people."
About 10 million turkeys were consumed in the UK last Christmas, compared with about 250,000 geese.
Go to next video: 'Christmas preparation from January'