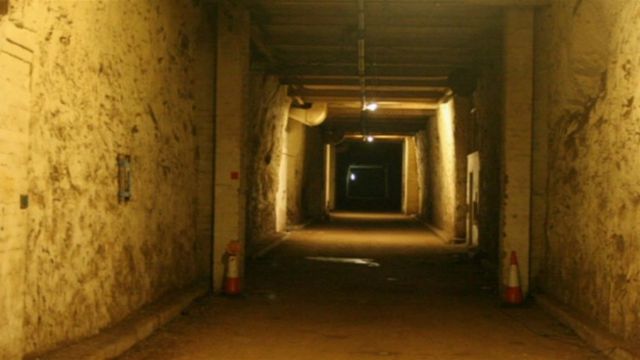 Video
BBC had nuclear bunker tour ahead of drugs bust
The BBC was given access to a nuclear bunker in Worcestershire just days before police discovered a cannabis factory on the site.
The guided tour was given by caretaker Sid Robinson. Also known as Wayne Robinson, he was one of two men sentenced for drugs-related offences after police discovered 885 cannabis plants in the tunnels, with an estimated street value of £78,000.
On Tuesday, Robinson was jailed for 14 months after a retrial at Worcester Crown Court.
This slideshow shows the three-mile long complex, near Kidderminster, which was used as a World War Two and Cold War bunker.
At the time of filming in 2013, there were proposals to turn the massive underground complex into a museum.
All copyrights acknowledged. Photos courtesy of Getty Images, Associated Press, Getty/AFP.
Other pictures by Stephanie Barnard and Jerry Chester. Slideshow produced by Jerry Chester.