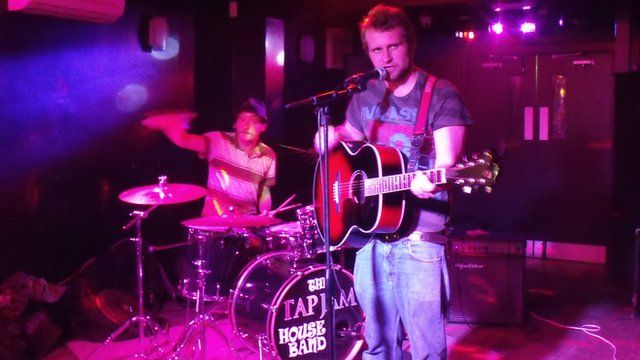 Video
The Brewery Tap open mic night, Worcester - 03.05.12
Just about the best showcase for live and local music at the moment has to be the enigmatic and culturally diverse Brewery Tap in Worcester's Lowesmoor - and I went along again to check out it's regular Thursday Tap Live event.
First up were the newby hip-hopping trio Done By Sunrise. The Howland clan are just about the freshest breath of air I've seen in some time. They've been pretty much a capella with just a guitar up till now - having cut their teeth at most of the open mic nights on the circuit - but they've written a lot more numbers recently and pretty soon hope to gig with a full rhythm section behind them - I'm looking forward to that.
This was the first time I've heard young James David Inglis. This 18-year old Worcester lad mostly covers Bob Dylan numbers like It Ain't Me Babe and other similar artists of that era like Johnny Cash and Simon & Garfunkel - very strange that a chap this young has influences going back for getting on 50 years - but a tribute to the great music of that time.
A solo set followed from Shane Husbands AKA Jasper, kicking off with a cover of his good mate Richard Clarke's Only Us - this is the sort of cover we like! But he performed some of his own great numbers like Say It's Greener that he featured on our session at the Stourport Civic with his full band, as well as a sneak preview of new number Brought Me Down - very nice indeed!
There was something a bit different to close off the night as Shane took up position behind the house drumkit to bash out some riffs for ex-Jimmy Nylon frontman Connor Maher's mixed set of originals and covers - occasionally joined as well by Cover Junkie Jay Clarke on bass to fully round off the sound. Connor's got some great rocking numbers like the one about a five-year old boy's vivid imagination that desperately need recording as soon as possible - in your own time mate.
Andy O'Hare