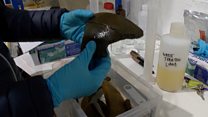 Video
Work to conserve HMS Invincible shipwreck artefacts
Work is under way to conserve and restore hundreds of artefacts retrieved from the wreck site of HMS Invincible.
Hundreds of items, including gunpowder barrels, cannons, ropes and sailors' shoes are being treated at the Maritime Archaeology Sea Trust's (MAST) facility in Poole to prepare them for eventually going on show to the public.
The 74-gun ship - considered one of the most significant warships ever built - was lost in 1758 when its rudder jammed and it ran aground on a sandbank between Langstone Harbour and the Isle of Wight, capsizing three days later. No lives were lost.
The £2m project is funded by a Libor grant paid from fines levied on the banking industry.
Go to next video: Shipwreck is 'discovery of a decade'