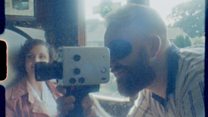 Video
The rise of retro filmmaking and resurgence of Super 8
We know about apps like Instagram and PhotoFunia that can make pictures and film look like they were shot in a different time.
But, there's now a huge resurgence in popularity of the original format that inspired that retro look - Super 8 film.
Invented in 1965, it sparked a revolution in home movies in the 1970s and 80s.
And now, it is proving popular with the digital generation, with analogue film seeing a huge rise in demand.
Using Super 8 is difficult as you can't see exactly what you're filming, and processing the raw film takes at least a month.
BBC Video Journalist Ben Moore tried his hand, working with a Southampton filmmaker.
Go to next video: 'It's not a nostalgic trend'