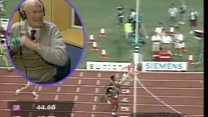 Video
Southampton-based coach Mike Smith cheers on Iwan Thomas
An athletics coach who nurtured the talents of Olympic, Commonwealth and European medal winners has died after a short illness.
Southampton-based Mike Smith was renowned for his work training up and coming athletics stars in a career spanning five decades.
His most famous athletes include Iwan Thomas MBE, Kriss Akabusi, Todd Bennett, Roger Black and Donna Hartley.
In a video of Mr Smith working as BBC Radio Solent's Athletics Correspondent, he can be seen cheering on a young Iwan Thomas as he won gold in the 400m at Commonwealth Games in 1998.
Mr Smith can be seen cheering "go, go, go" as his pupil nears the end of the race.
Following his victory, Iwan Thomas told the TV reporter: "He is the greatest coach in the world. I'm sorry you can't be here mate but you're here with me in my heart."