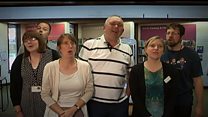 Video
Council workers take part in Isle of Wight campaign song
Librarians, pensioners and firefighters are featured in an online video to accompany a song released as part of a campaign calling for better government funding for the Isle of Wight.
The Fight for the Wight campaign, was set up to demand more money from central government following £50m cuts in spending over the last five years.
David Pontin of Isle of Wight music college Platform One, who was approached by the council to produce the song, said he hoped it would "raise awareness".
The government has previously said the island's situation is being considered as part of a local government funding review.