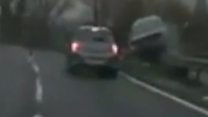 Video
Dashcam captures car flipping over in Southampton crash
Dashcam footage of a car crashing through a central reservation and flipping over has been released by police after the motorist received a driving ban.
BMW driver Ryan Vincent, 33, lost control and crossed the central reservation after undertaking on the A35 in Southampton in December.
Vincent, of Crawte Avenue, Holbury, was found guilty in his absence of driving without due care and attention and driving without insurance. He was fined £230, banned for 14 days and received six points on his licence.
PC Mike McRoyall described it as a "terrifying" crash and said it was "sheer luck" no-one was seriously injured.
"We hope that by sharing this footage it will send a strong message about how one irresponsible decision can have a huge and potentially devastating impact on not only your life but the lives of other road users around you," he added.