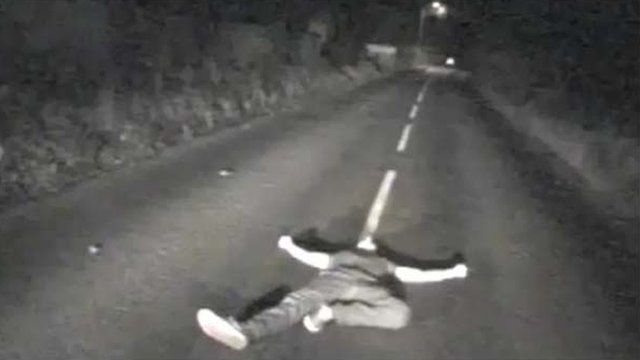 Video
Bus misses 'worse for wear' man lying in middle of road
Footage of a bus narrowly missing a man lying on a country road on the Isle of Wight has been released by police.
The incident took place in the early hours of 5 October in Halletts Shute, but police released the footage on New Year's Eve to warn of the dangers of excessive drinking.
Hampshire Police said the man was "obviously the worse for wear".
A spokesman from Southern Vectus bus company said the driver's "quick thinking" saved the man's life.
"Just a second or two later could have been a different story," he said.
After the bus brakes to avoid him, the man can be seen sitting with his arms folded before staggering to the side of the road and falling over.
Sgt Dave Sanderson of the Isle of Wight Roads Policing Unit said the man had put himself into "extraordinary danger" and praised the "amazing reactions" of the bus driver.