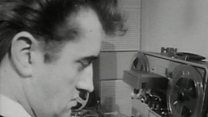 Video
A recording of 60s record producer Joe Meek is discovered
A rare recording of legendary record producer Joe Meek singing has been discovered.
The short clip of a demo recording of an unknown song was unearthed by BBC Radio Gloucestershire as part of a documentary to commemorate the 50th anniversary of the songwriter's death.
Meek took his own life on 3 February 1967 at the age of 37. He famously pioneered experimental pop music in the 1960s and is considered to be one of the most influential sound engineers of all time - his most well known song being the Tornados' instrumental Telstar.
Chairman of the Joe Meek Society, Rob Bradford, said the clip was "indeed rare" and probably dated to about 1962 or 1963.
"It's quite a tuneful one compared to some of the other demo tapes I've heard," he added.