Media player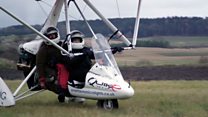 Media playback is unsupported on your device
Video
'Human swan' Sacha Dench is close to finishing her epic journey
A conservationist - who has been following migrating Bewick's swans from Russia to the UK - is due to arrive back in the country.
Sacha Dench, nicknamed the Human Swan, is tracking the birds on their 7,000-mile (11,265 km) journey in a paramotor - a paraglider with a propeller strapped to her back.
The conservationist, who works at the Wildfowl and Wetlands Trust headquarters in Slimbridge, says the journey has helped raise awareness of the swans' plight.