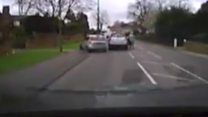 Video
Dashcam shows car mounting pavement to avoid queue
A man has been convicted of dangerous driving after a dashcam captured him mounting a pathway to avoid a queue.
It happened at the junction of Snakes Lane and Whitehouse Road, in Southend, on 29 March.
The man stopped "a foot away" from an officer, say police. He then revved the car's engine, forcing the officer to stand back, before reversing and driving off. He was caught two days later.
Jack Birch, 28, of Bilton Road, Benfleet was found guilty of dangerous driving, disqualified for 12 months, given 100 hours of community service and ordered to pay court costs.
Go to next video: Dashcam captures 'distracted' driver