Media player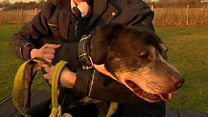 Media playback is unsupported on your device
Video
Hermaphrodite Staffie Jodie searching for new home
An "unwanted and unloved" dog is struggling to find a new home because she is a hermaphrodite, the RSPCA said.
Jodie, a 12-year-old Staffordshire bull terrier, has both male and female reproductive organs, which vets say is "rare" in dogs.
She was rescued three months ago in Southend, and although the RSPCA describes her as "a lovely dog", it has not had a single inquiry from anyone wanting to rehome her.
Marie Hammerton, the inspector who found Jodie, said having both organs did not affect the dog "in any detrimental way" and she was a "very loving" animal.