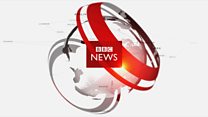 Video
Drop off your coat
A paramedic said she has been "overwhelmed" by the response to a coat gift scheme she has set up to help keep homeless people warm in winter.
As first reported by Essex Live, Fay Sibley put up a rail outside the Colchester Library on Saturday.
Each day since then, she said, about 30 new coats are being added and about the same number being taken by those in need.
Ms Sibley said she was inspired by a similar scheme in Yorkshire.
"It is just a very, very simple idea," she said. "Most of us have old coats in the wardrobe that we don't use and for somebody sleeping out on the streets it could be a real lifesaver."
This video has been optimised for mobile viewing on the BBC News app. The BBC News app is available from the Apple App Store for iPhone and Google Play Store for Android.