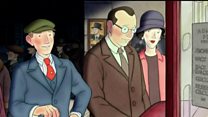 Video
Ethel & Ernest: Essex director brings Raymond Briggs' novel to life
Award-winning actors Jim Broadbent and Brenda Blethyn star in Ethel & Ernest, an animated film based on Raymond Briggs' 1998 graphic-novel.
A tribute to his parents, the film features in the BBC One Christmas schedule and is directed by Essex-based animator Roger Mainwood.
Mr Mainwood, who lives near Colchester, also worked as an animator on The Snowman, Where the Wind Blows and Father Christmas.
"As director it's a bit like conducting an orchestra... to bring the best out of everyone," he said.
"We all felt it was such an important thing to get right as it's such a personal story for Raymond, we just couldn't mess up on this one."
Ethel & Ernest is on BBC One at 19:30 on 28 December and can be viewed on the iPlayer afterwards.