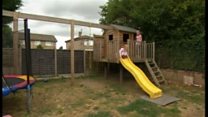 Video
Children's playhouse to be pulled down after complaint
A father who built his daughters a raised den has been told to knock it down, after a neighbour complained.
Tim Sparkes, from Marks Tey near Colchester, thought he was within planning guidelines as the playhouse was away from a fence and had no overlooking windows.
But a Colchester Borough Council planning officer said it was subject to national rules as "raised platforms, verandas and balconies were not permitted".
Because he could not get his neighbour's agreement to screen the playhouse, retrospective planning permission was refused.
Daughter Louise said: "I wanted a treehouse as I wanted somewhere to play and hide out with my sister.
"I feel very sad and it is kind of disappointing as I've had lots of good times in it."