Media player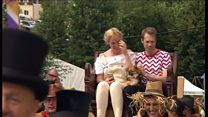 Media playback is unsupported on your device
Video
Dunmow Flitch Trials: Couples prove their love before a special court
Four couples have won a side of bacon after convincing a special court of their love.
The Dunmow Flitch Trials take place once every four years in a tradition thought to date back to the 12th Century.
Among the winners this year were Christopher Atkinson and Meredith Atkinson-Wood, who were paraded to the town square behind their flitch of bacon.
A fifth couple was rewarded with a gammon.