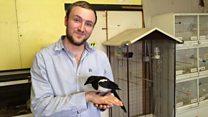 Video
Pet shop owner 'ready for 20 years of magpie friendship'
A pet shop owner says he is ready for "20 years of magpie friendship" after spending two months hand-rearing a young rescued bird.
Peter Redwood-Smith, 21, from Rayleigh, Essex, has formed a strong bond with Pica, who was saved from a cat attack by a shop customer.
Mr Redwood-Smith, who has hand-reared animals before, said he had never had a creature become so attached to him.
"He's so affectionate, so loving, so intelligent - unbelievable," he said.
"As long as it's in his best interest, he'll stay with me, but if he ever wants to fly off, he's got that choice.
"I leave my windows open, I leave my door open, but he comes back to me."