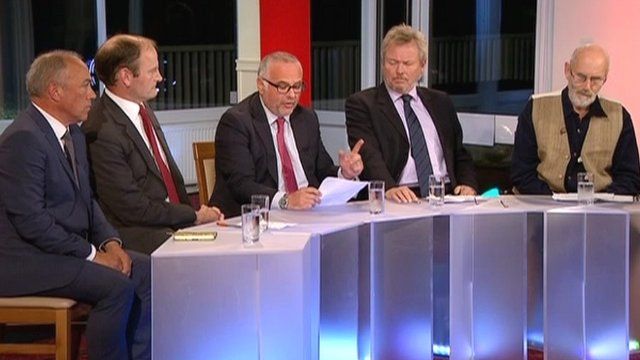 Video
Healthcare divides Clacton candidates
A suggestion to "charge people to see a GP" caused temperatures to rise in a television debate ahead of the Clacton by-election.
Labour's candidate Tim Young claimed UKIP's Douglas Carswell made the suggestion in a book written by the former Conservative MP.
Mr Carswell responded by saying his book "talks about changing the way money is allocated".
Liberal Democrat candidate Andy Graham said he was concerned about GPs leaving the area.
Green candidate Chris Southall claimed UKIP's stance on immigration would deter foreign doctors from coming to work in Clacton.
Conservative candidate Giles Watling was asked if he could defend David Cameron's privatisation of back office health services in Clacton.
Eight candidates will battle it out to be elected. The five main parties took part in a 40-minute debate, organised by BBC Look East on Monday.
Go to next video: Boris Johnson forgets candidate's name