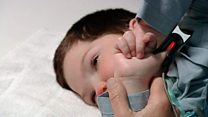 Video
Tributes paid to Dorset teenager who could not breathe
Tributes have been paid following the death of a 17-year-old boy whose medical condition meant he could only be kept alive with the help of life support.
William Townsend, from Marnhull in Dorset, suffered severe brain damage when he was three weeks old and was unable to breathe or swallow from then on.
His mother Victoria had fought a lengthy battle for him to be allowed to die, and medics agreed to turn off his ventilator if he became critically ill.
Mrs Townsend set up charity Breathe On UK, for families in similar situation, but has long highlighted a funding crisis and fears the charity may close down.