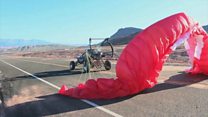 Video
Dorset flying car firm to 'double workforce' after Chinese investment
An engineering firm that designed and built a flying car says it will be able to double its workforce after receiving a $30m (£24m) investment from China.
Gilo Industries Group, based in Shaftesbury, Dorset, specialises in designing paramotors - giant "back-pack fans" for power-paragliders.
The firm said the cash from Chinese technology group Kuang-Chi would allow it to double its 60-strong workforce.
In 2007, it became the first company to fly a person - adventurer Bear Grylls - strapped to a paramotor, above the summit of Mount Everest.
Two years later it built what it has described as "the world's first practical flying car", and it is currently developing a motorised surfboard and a jet-pack.