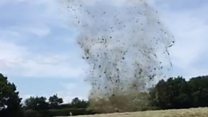 Video
Dust devil whips up Sticklepath hay field
Hay was lifted up to 200ft (61m) in the air when a field in Devon was hit by a dust devil whirlwind.
The unusual meteorological phenomenon was spotted in a field at Sticklepath in Dartmoor on Saturday afternoon.
Vicky Chastey filmed the whirlwind as she was baling with her husband and children.
She said: "The hay lifted at least 150-200ft (46-61m) in the air and carried off towards Belstone from Sticklepath.
"We have seen little ones before but nothing as impressive as this. I am glad I had my phone in my hand!"
The BBC weather centre confirmed it as a dust devil, which can occur when thermals rise on sunny days.