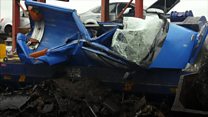 Video
On-run Devon fly-tipper Martin McDonagh's van crushed
A notorious fly-tipper who targeted the countryside around Devon with household waste has been given a 20-month prison sentence in his absence.
A European arrest warrant has been issued by Plymouth Crown Court for Martin McDonagh, 23.
McDonagh, of Pemros Road, St Budeaux, Plymouth, was also given a criminal behaviour order.
He was charged after a long investigation involving the Environment Agency, police and several local authorities.
McDonagh cold-called householders offering to take their waste to the tip then dumped it in the surrounding countryside including local beauty spots.
His Ford Transit van was seized by the Environment Agency during the investigation and crushed.