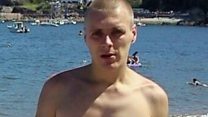 Video
Fishermen warned of the dangers of using drugs while at sea
Fishermen are being warned of the dangers of using drugs while at sea following several deaths linked to the use of amphetamines.
In the last two years, 15% of fishing vessel accidents have involved drug abuse.
Micky Hill's son, Mike, was skipper of a scallop dredger when it capsized off Teignmouth, Devon. He died aged 22, along with Shane Hooper, 34 , who was found with amphetamines in his system.
Mr Hill says Mike would not have allowed Shane on board if he'd known he'd been using drugs.
See the full investigation on Inside Out South West on BBC One on Monday 6 March at 19:30 BST and on the iPlayer for 30 days thereafter.