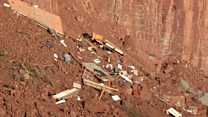 Video
Sidmouth summerhouse crashes over cliff edge
It used to have one of the best views in England - now a Devon summerhouse is a pile of splintered wood at the bottom of a cliff.
The structure had been Paul Griew's garden sanctuary where he could observe the beautiful coastline off Sidmouth. But over the years the cliff edge has been encroaching on his property.
Mr Griew, 69, said he was out at the time of the collapse which was caught on camera by a passer-by who said she was filming the cliff, where there have been previous collapses.
Mr Griew said he had lost 20m of garden since he bought his home in 1997. And at the current rate of erosion of about 1m a year, he has about another 40 years left before his house collapses.
Go to next video: Part of cliff collapses into sea