Media player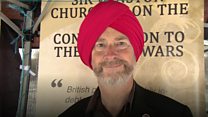 Media playback is unsupported on your device
Video
Plymouth councillor teaches people how to tie a turban
A Sikh councillor has taken to the streets to teach people how to tie a turban.
Plymouth councillor Chaz Singh held an awareness day to teach people about the turban and the Sikh faith.
"It is a crown for Sikhs," he said. "So every morning I adorn my crown and I've been giving everyone else the opportunity to wear a crown."
"Once people have it on, it kind of gives them a sense of empowerment."